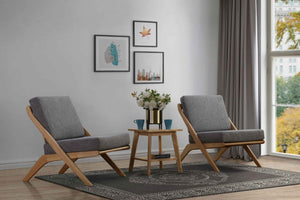 This Lounge Chair and Table Set bring comfort and tranquillity to the peak simply because of its thick yet smooth foam. After long working hours, we look forward to resting and relaxing, which is only possible if we have the right furniture for this job. This comes in a perfect set of 2 chairs and a table to put your morning coffee or beverage of preference.
It prevents your back from hurting because it has soft but thick foam.
Product Specifications for the  Lounge Chair and Table Set will make you love them more!
Firstly, The table is solid rubberwood; therefore, the quality is also one of the best finds on the market. 
Full Solid Wood – Rubber Wood
L450mm W400mm H455mm
Secondly, the chair is sturdy since it is solid wood and has comfortable foam. It is one of the long-lasting wood ideals for furniture, so it is built to last longer than other woods. 
Full Solid Wood – Rubber Wood
Seat – 4" Foam
Back – 3" Foam
Here are more exciting offers for this chair and table set!
Firstly, Affordable Price for this set. 
Secondly, We install. Our professional team will install the table and chair for you.
Finally, Delivery is Free if there is a lift and no climbing of stairs.